CEE's Alumna Dr. Amy Childress Heads Univ. of Nevada's CEE Dept.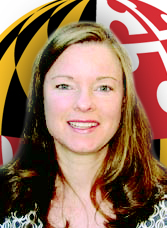 Civil and Environmental Engineering's alumna, Dr. Amy Childress has been appointed as the new chair of the CEE Department at the University of Nevada, Reno (UNR). The appointment begins on July 1, 2008. Dr. Childress joined UNR in 1997.
Dr. Childress graduated with a B.S. degree from Univ. of Maryland's Civil and Engineering Department in 1992. We congratulate her on her achievements.
Article and photo credit: www.aeesp.org
The original article can be found at:
http://www.aeesp.org/publications/pdf/AEESPNL.43.2.2008.pdf
Published June 9, 2008