CEE, Landscape Architecture Researchers Awarded 1st Place in EPA Campus RainWorks Challenge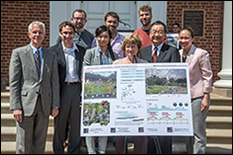 On Wednesday, April 22, the U.S. Environmental Protection Agency (EPA) named a University of Maryland (UMD) team of civil engineering (CEE) and landscape architecture researchers first-place winners of the third-annual EPA Campus RainWorks Challenge, Demonstration Project category.
Created to engage university students in reinventing water infrastructure, the RainWorks Challenge recognizes students who show how managing stormwater at its source can benefit the campus community and environment.
Second-year CEE graduate student Jaison Renkenberger and CEE Ph.D. candidate Yan Wang joined Landscape Architecture students Jonathan Gemmell, Penny Jacobs, Harris Trobman, and Nick Yoder on a mission to redesign a prominent site next to UMD's Memorial Chapel. The group was advised by Dr. Victoria Chase, an assistant professor in the Department of Plant Science and Landscape Architecture (PSLA).
The research team – known as UMD Team D9 – centered their project on a 7.1-acre basin located directly south of Memorial Chapel. The team members proposed a system to gather runoff from surrounding impervious surfaces and collection points and treat the water in multiple stages before returning any treated overflow back into the storm system located at the low end of the site. The team's collection system involves replacing the traditional lawn with a series of meadow ecologies while capturing and treating stormwater from two adjacent parking lots and surrounding rooftops through a series of bioretention terraces, bioswales, and rain gardens.
"Compacted and fertilized lawn is arguably just as bad as a parking lot. Getting rid of lawn is a good thing," Renkenberger said, noting that the landscape architecture students chose regionally native plants that are hardy and low-maintenance.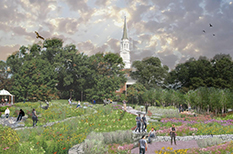 The team also redesigned the site's stormwater system by disconnecting existing storm pipes and directing stormwater flow from two adjacent parking lots into a low-impact development treatment train into the meadows. This design would treat 55 percent of a five-year storm event and 100 percent of a one-year storm event, Team D9 noted.
"These storm events are, statistically, the most frequent," Renkenberger said. "Reducing impervious area, increasing land-holding capacity, and increasing infiltration for these events reduces erosion from peak flows and pollutant transport. We are in the Chesapeake Bay watershed, so intercepting these volumes trickles benefits downstream and eventually to the Bay itself."
In addition to offering a practical solution for stormwater management, the proposed project would also enhance aesthetics of the site, which is often used for commencement, academic functions, and weddings.
"I think that beautiful designs like this go a long way to show the public that sustainability is a thing, and that it can be really cool," Renkenberger said. "In addition to aesthetics, this design is functional from a sustainability point of view as well as recreational. Fishing from clean streams, kayaking through restored wetlands and farming Blue Crab are all supported by sustainability. If enjoying the outdoors isn't your thing then maybe eating fresher and cheaper bay food is. There is a very strong economic argument for sustainability."
By joining together area experts from civil engineering, landscape architecture, environmental science and technology, and facilities management, Team D9 also demonstrated the value and importance of cross-disciplinary research. Additional advisers to the team included Mr. Dennis Nola (PSLA), Dr. Lea Johnson, Dr. Peter May (Environmental Science and Technology), Dr. David Myers (College of Agriculture and Natural Resources), and Karen Petroff, UMD Facilities Management Assistant Director, Arboretum and Horticultural Services.
"Every interdisciplinary project I [have worked] on further shows the importance of collaboration to meet environmental challenges," Renkenberger said. "Everything is so interconnected and complex. To do things right and get the most benefit, we need to understand that watersheds are composed of both physical and social elements. Both are critical to sustainability."
The team, which presented a site plan, renderings, and maintenance schedule for implementation of their design, was formally recognized by the EPA during an Earth Day awards ceremony at the Chapel site on April 22. The students of Team D9 will split $2,000 in prize money; faculty from the PSLA will also receive money to go towards furthering green infrastructure research.
The EPA also recognized a second team from the University of Maryland with an honorable mention award in the master plan category.
Published April 22, 2015