CATT Welcomes New Researcher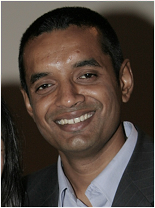 Rahul Nair, Ph.D. joins the Center for Advanced Transportation Technology as a Post Doctorate Research Engineer. No stranger to the University of Maryland, Dr. Nair received his Ph.D. from UMD in transportation engineering.
In working with CATT, Dr. Nair will be involved in many projects and programs initially focusing on performance measures using new data sources such as INRIX (vehicle probe data) and bluetooth. He will be helping with State Highway Administration (SHA) efforts to develop an annual mobility report, Federal Highway Administration (FHWA) proposed Research & Development in the area of work zone performance monitoring, and working with the CATT Lab in support of their research projects.
His research interests include network modeling, stochastic optimization, systems analysis of innovative and sustainable mobility solutions, intermodal transportation, network design, and traffic flow theory. His dissertation titled "Design and Analysis of Vehicle Sharing Programs: A Systems Approach" studied new mobility alternatives to alleviate urban congestion, and was awarded the Best Dissertation Presentation Award by the Transportation Research Board Network Modeling Committee at their Annual Meeting in 2010. His past research experience includes analyzing intermodal freight services through Europe in a European Commission funded project REORIENT, network resilience, urban service systems, dial-a-ride scheduling, and traffic flow models in disordered systems.
Originally from coastal city Kochi, Kerala in southern India, Dr. Nair received his Masters degree in Civil Engineering from the Indian Institute of Technology Madras, and a Bachelors degree in Architecture from Madras University, India. In his spare time Dr. Nair enjoys playing squash and ultimate Frisbee.
About CATT
The Center for Advanced Transportation Technology (CATT) in the A. James Clark School of Engineering Department of Civil and Environmental Engineering at the University of Maryland, College Park, was created in order to respond to the significant changes brought about by the increasing use of advanced technologies in the transportation field. A permanent staff of ITS professionals and affiliated faculty of the Department of Civil Engineering supports CATT. All offer extensive knowledge and experience in the areas of ITS technology, traffic engineering and control, systems analysis, and operations research. Visit CATT on the web at www.catt.umd.edu.
Published July 5, 2011