Baecher Featured in Reducing Coastal Risk Video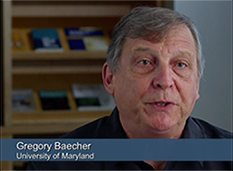 Civil and Environmental Engineering Professor Gregory Baecher was recently featured in Reducing Coastal Risk on the East and Gulf Coasts, a National Research Council of the National Academies video addressing the need for investment in measures to safeguard against natural disasters before they strike.
Coinciding with a July 2014 report of the same title, the video draws attention to the fact that an increase in the amount of peopel and property along the coast, together with climate change and a misalignment of economic incentives, pose chalelnges for managing U.S. coastal risk.
"The chalelnge right now is that everything is going up—the hazard appears to be going up, storms appear to be getting larger, more people are moving to the coast," Baecher said in the video. "Not only are more people moving to the coast, but they are moving to the southeast counties and the Gulf counties where the hazard is the greatest."
In fact, the United States has eight cities among the top 20 global cities at greatest economic risk from global flooding, the video reveals. Even more, all eight cities—Miami, New York/Newark, New Orleans, Tampa-St. Petersburg, Boston, Philadelphia, Virginia Beach and Baltimore—are located along the East and Gulf Coasts. And, in the past decade, population growth in the regions where hurricanes hit most frequently has been twice the national average—which has helped today's coastal storms to be more expensive than ever before.
"The country should really be investing ahead of time and not just waiting for storms to happen and then cleaning up—much more expensively—afterwards," Baecher noted.
Published September 16, 2014