2018 ARPA-E Summit to Showcase UMD Innovations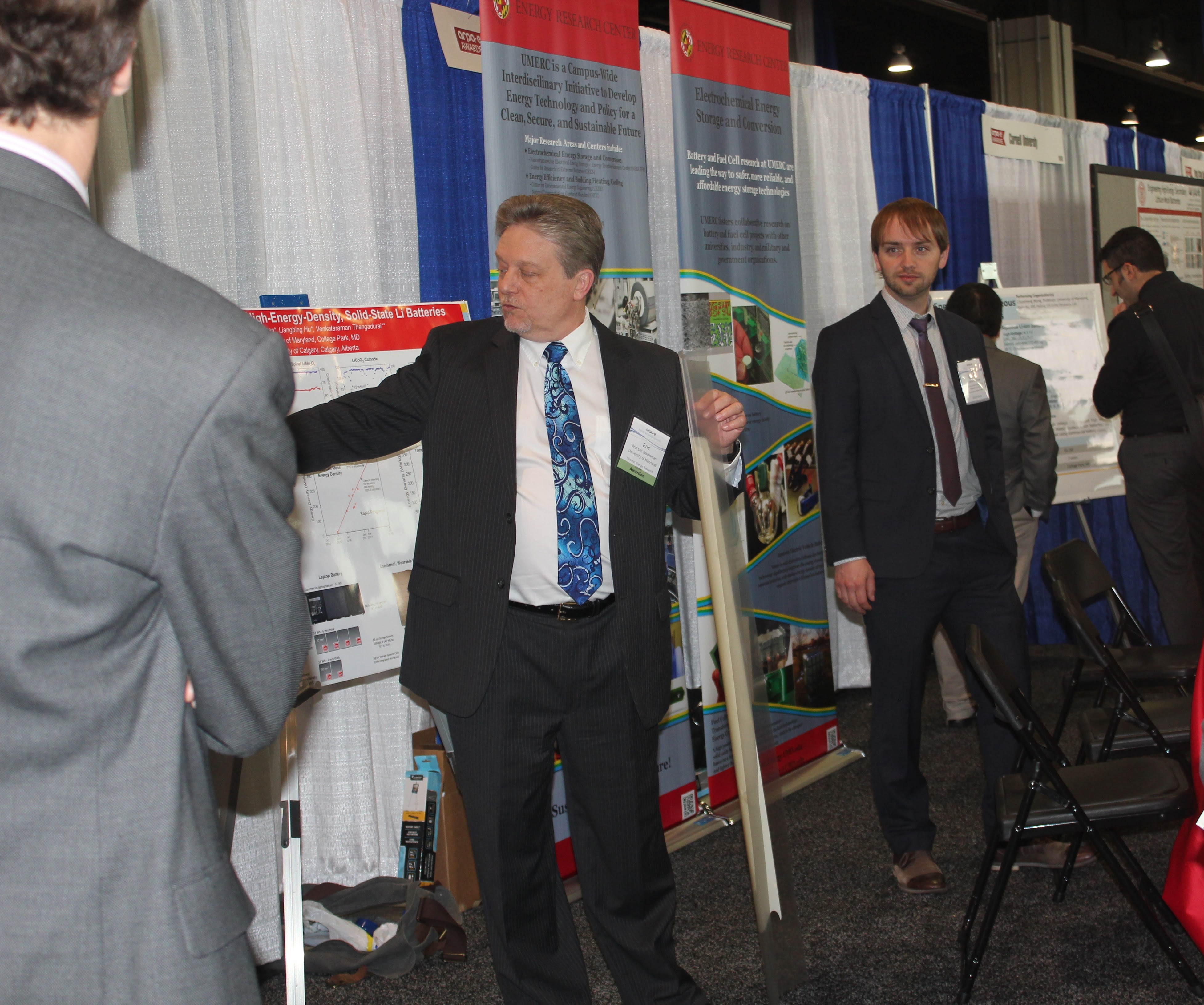 The 2018 U.S. Department of Energy's Advanced Research Projects Agency – Energy (ARPA-E) Innovation Summit officially kicks off on March 13 in National Harbor. The University of Maryland (UMD) will again be a major participant with eight ARPA-E awardee booths during the Technology Showcase, highlighting their innovative energy technologies. Over 2000 attendees from academia, business and government will be on hand at the summit.
That afternoon, Dr. Eric Wachsman, Director of the Maryland Energy Innovation Institute (MEI2) and William L. Crentz Centennial Chair in Energy Research at UMD, has been invited to participate in the Summit Pitch and Networking Event sponsored by the American Energy Innovation Council (AEIC). He will be pitching his local start up company, Ion Storage Systems, LLC, which is commercializing solid-state Li-battery technology he and Professor Liangbing Hu have developed at MEI2. The AEIC is an energy innovation-focused policy group led by Bill Gates and other business leaders. This invitation only event brings together energy investors and strategics to network amongst each other and with a select group of ARPA-E performers who are looking for growth capital. Eleven ARPA-E awardees have been selected to pitch their ideas to over 25 investors including Dow Ventures, Shell Gamechanger, and Breakthrough Energy Ventures.
In addition, Dr. Wachsman will be a panelist in the "A Solid Advance in Next Generation Lithium-Based Batteries" session on March 14th. The panel will focus on the renewed interest of exploration into the most basic aspects of Li metal anode mechanisms, which has provided new insights into the mechanical, material, and electrochemical requirements for truly reversible cycling without the risk of dendrites. The discussion will describe some of those critical insights and will review some of ARPA-E's projects seeking viable solutions.
"It's a tremendous opportunity to be on the ARPA-E stage twice in one Summit to both discuss the technical advances we've made thanks to ARPA-E support and to pitch investment in a company we've spun-off to commercialize that technology," said Wachsman.
Three other UMD professors and ARPA-E awardees will also be specifically highlighted during the Tech Demo. Dr. Lei Zhang, Herbert Rabin Distinguished Professor of Civil Engineering and Director of the Maryland Transportation Institute at the University of Maryland, will demonstrate how personalized and real-time incentives can be precisely delivered to individual travelers for significant energy savings. Developed from latest decision sciences and urban computing innovations, their incenTrip technology consists of a system model that predicts in real-time individual travelers' decisions with or without incentives and their respective energy impacts, and a decision support tool that optimally and dynamically designs monetary and non-monetary incentives for each user. incenTrip is being deployed in Washington D.C. and Baltimore, with planned coverage expansion and tech-to-market through a start-up, Future Mobility Labs, LLC.
Professor Hugh A. Bruck and David Hymas, PhD student, at UMD will demonstrate a novel Polymer Composite Heat Exchanger enabled by a Novel Additive Manufacturing technique to yield superior thermal performance at reduced pressure drops and with substantial weight reduction when compared to state of the art corresponding heat exchangers. Developed with support from the ARPA-E ARID program, the heat exchanger technology has diverse thermal management applications and a demonstrated potential to introduce transformative changes to the way heat exchangers are designed and fabricated.
Department of Mechanical Engineering Professor Reinhard Radermacher and the RoCo team will present new prototypes for the Roving Comforter (RoCo) personal cooling and heating device during the ARPA-E Summit. RoCo provides ultimate personal thermal management for people in inadequately or un-conditioned environments. Benefiting from linear mini-compressor and next generation air-to-refrigerant heat exchangers, the system delivers cooling and heating at minimum power consumption without releasing waste heat.
Finally, Dr. Michael Ohadi, on leave from his role as a professor of mechanical engineering and co-founder of the Center for Environmental Energy Engineering at UMD, currently serves as a Program Director at ARPA-E. He will be pitching potentially new program concepts, out of the box ideas, and will engage in a question and answer session following the director fast pitches.
The ARPA-E Summit is an annual conference and technology showcase that brings together experts from different technical disciplines and professional communities to consider America's energy challenges in new and innovative ways. In its ninth year, the Summit offers a unique, three-day program aimed at moving transformational energy technologies out of the lab and into the market.
The Maryland Energy and Innovation Institute will provide a platform to catalyze basic research into new technology while stimulating economic growth and improving millions of lives across the state of Maryland. To learn more, visit: energy.umd.edu
Published February 26, 2018