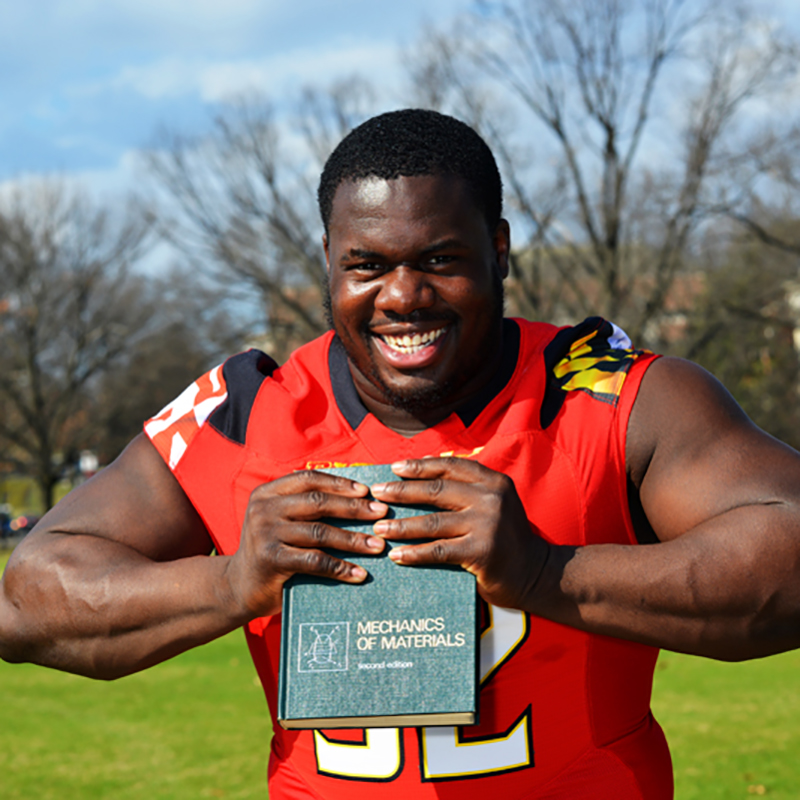 "School is the most important thing to me right now."
Oluwaseun Oluwatimi is a Sophomore at UMD; this is his first semester in the Civil and Environmental Engineering Department after transferring from Letters and Sciences.  He is pursuing the Transportation/ Project Management track.  The CEE major seemed like a good choice for him because, he says, "I'm really good at math and science."  He is especially interested in transportation, and bridges in particular.  His interest in Civil Engineering also has its roots in his grandfather's work as a Civil Engineer in Nigeria. "I never met him, but my Dad told me about him, and it sounded cool," he says, adding: "I'm the only aspiring engineer in my family."
Olu was drawn to UMD because it was close to home (he grew up mostly in Maryland), and because he wanted to attend a large public school.  Another draw was the fact that some of his football teammates from high school were planning on going to UMD as well. 
Olu was the Captain of his high school football team, and now plays on UMD's team as a defensive lineman.  Some of his high school teammates are now his teammates again.  He and one teammate will be competing this year for a starter spot.  He says his favorite game last year was the first game of the season, in which the team traveled to the University of Texas at Austin.  "This was my first time traveling with the team and my first time playing college football. We were heavy underdogs against a top-25 ranked Texas. We won the game and I recorded my first career sack," he says.
Olu admits that it can be hard to balance football with academics when it's football season; often, playing away games will mean he has to miss his Friday classes.  But he still tries to manage his time wisely and prioritize his studies.  "School is the most important thing to me right now," he says. 
Olu is also a member of the Black Engineers' Society, which he joined even before transferring into CEE.  He has also joined ASCE this semester, and he is hoping to do an Engineering-related internship this summer.  When he has his free time, he enjoys reading comic books and watching TV—everything from Game of Thrones to Dancing with the Stars, to which his sister introduced him.  He also likes to go home to nearby Upper Marlborough to see his parents.
While he still has plenty of time to decide what he wants to do after college, Olu is considering pursuing his Master's.  If he does not do so, he thinks he will get a job in the D.C. area to stay close to home.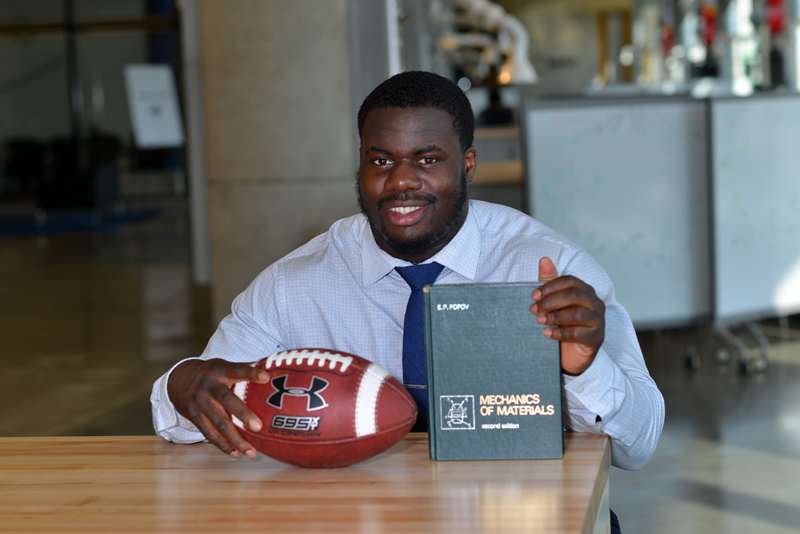 Top