[I'm now] passionate about environmental engineering.
Fall 2017
Noah Cynkar is a senior in the Department of Civil and Environmental Engineering, with a dedication to environmental sustainability and a wide-ranging interest in many aspects of civil engineering. He is pursuing the Environmental and Water Resources track, but his classes and internships have also given him experience in design, construction, and transportation.
Noah's experience in an ACE mentoring program in high school made him realize he was interested in civil and environmental engineering; initially, he was especially interested in its structural aspects. At the start of his sophomore year at UMD, he transferred into CEE from Letters and Sciences. One of his first classes in the CEE department, Dr. Andrade's ENCE 215 class, Engineering for Sustainability, convinced him to pursue the Environmental and Water Resources track. "The content of the class was very interesting," he says, as it "taught ways to design sustainably but also informed students on issues like waste and water scarcity." He adds that he is now "passionate about environmental engineering."
Noah says his experience in ENCE 215 led him to take one of his current courses, ARCH 430, Measuring for Sustainability. As part of this class, which is a technical elective for the CEE major, he will soon be taking the LEED certification test to be accredited as a LEED Green Associate.
Outside the classroom, Noah says his most valuable experiences in college have been his two summer internships. He says that such experiences allow you to learn as you go and to apply what you've learned in classes, including the problem-solving skills developed in those classes. His first internship was with Archer Western the summer after his sophomore year; he found this internship through ASCE's Suit Up and Be Civil networking event. For this internship, he was working in Baltimore helping with construction on a wastewater treatment plant that was being expanded. He says that he enjoyed seeing the construction of something so massive and knowing that the work he was doing was also helping protect the Chesapeake Bay.
Noah's second internship, in the summer after junior year, was with the engineering company Jacobs. He found this opportunity through networking at the Chi Epsilon Career Fair. This internship involved transportation forecasting for the state and using GIS to do mapping of traffic corridors. The experience provided him with "a new perspective on civil engineering," he says, and made him realize that he was drawn to transportation. He is particularly interested in transit systems; he is excited that some of the new transit projects in progress in Maryland, from the Light Rail to the Baltimore Link system, will optimize efficiency and ultimately result in fewer cars on the road. This internship in particular guided him toward his decision of what he wanted to do after graduation.
As his diverse internship experiences suggest, Noah's favorite part of majoring in CEE is that it gives him "opportunities to interact with the different fields," not just his area of specialization. In the real world, he emphasizes, the different aspects of the field interconnect; knowledge of stormwater management is helpful in transportation work, for example. Another part of being a civil engineer that he finds rewarding is being able to see the work he's done have a positive impact.
Noah is also a marshal on the executive board for Chi Epsilon, the civil engineering honor society. His role is to work with the new initiates and plan events for them. He is part of the planning team for the 2017 Chi Epsilon Career Fair. In his spare time, he likes to go hiking; the Billy Goat trail is one of his favorites in the area. In August 2017, he went to the Great Smoky Mountains to view the solar eclipse. He also enjoys biking and running, and is a fan of football and hockey.
Noah already knows his plans after graduation; he has accepted a full-time job with Jacobs, the company with which he interned last summer. Since it is a big company, he hopes that it will eventually give him the chance to travel, preferably to the western part of the country. He also plans to get his P.E., so he can continue to do work that makes a difference in the world as a professional engineer.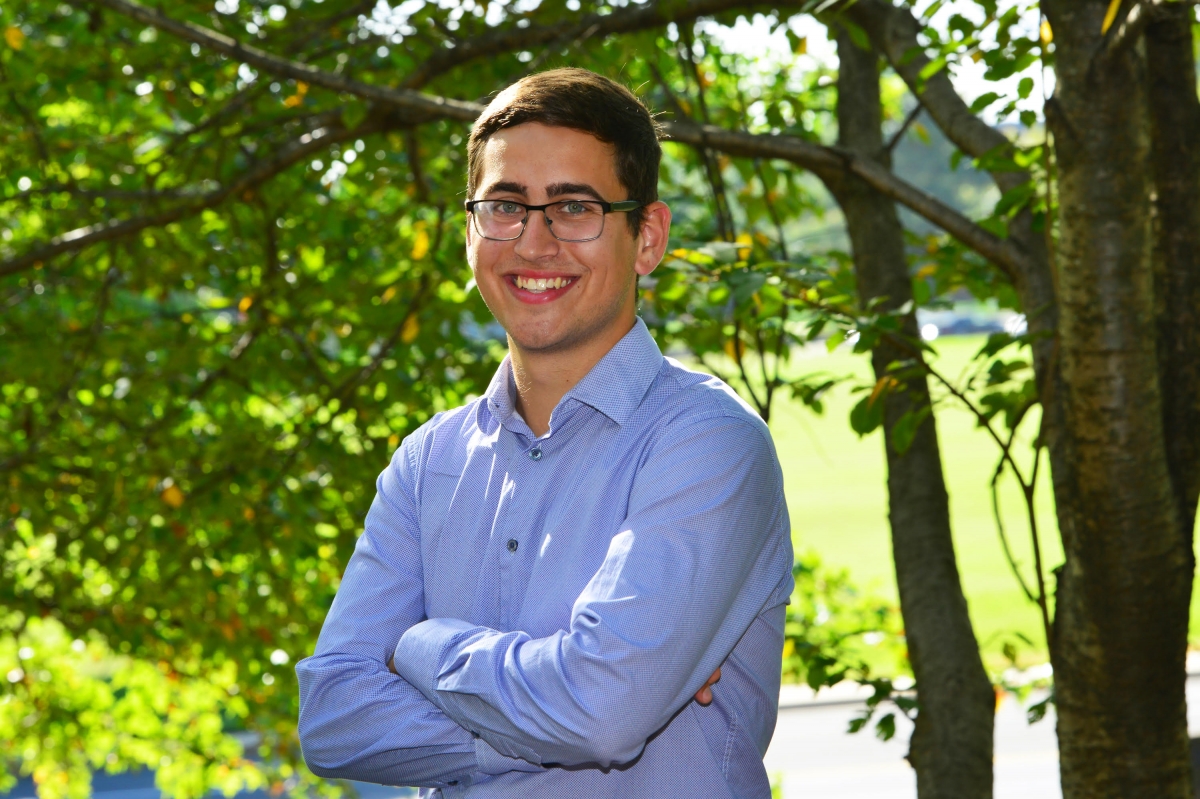 Top