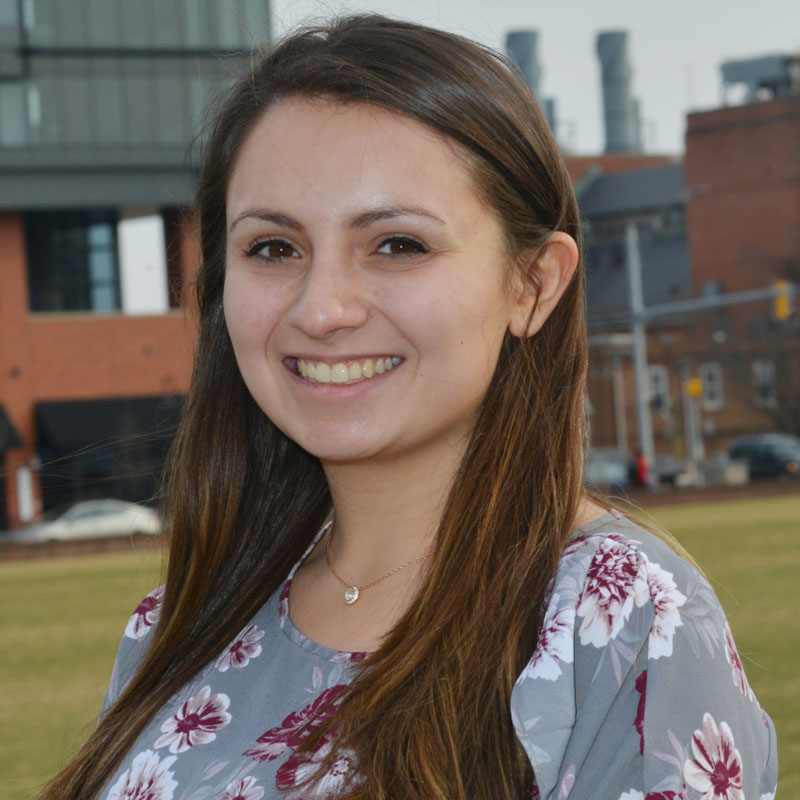 I really like the math behind [structural engineering].
Spring 2018
Nicolette Corrao is a sophomore pursuing the geotechnical and structural track.  When she was a high school senior in New Jersey choosing between colleges, a visit to UMD and the CEE department for an admitted student open house helped make her decision easy. She was initially interested in the department's environmental track, but switched to structural because, she says, "I really like the math behind it."
Despite only being in her second year at UMD, Nicolette is very involved in campus life and in the department.  She joined Alpha Omega Epsilon, the Engineering Sorority, as a freshman and has enjoyed being a member along with several of her civil and environmental engineering peers. This membership has meant both close friendships and a strong potential professional network.
Similarly, Nicolette joined UMD's chapter of ASCE her freshman year, and as of this year, she already has a position on the organization's executive board as underclassman engagement representative. In this capacity, she helps organize events and gives presentations on ASCE both in ENCE 100 classes and at open houses for prospective and admitted students. In these presentations, her enthusiasm for ASCE, the department, and UMD in general is evident: "I'm here [at UMD] because of the open houses," she points out, and clearly she wants to ensure these events can have the same impact on students who are currently choosing a college. She and the other board members also attended the ASCE Student Conference in Pittsburgh last fall, where they met the president of ASCE.
Being able to be so involved and have a position of leadership in an organization so early on is one of Nicolette's favorite things about being a CEE major here. She also likes the fact that CEE is a fairly small department in a large university, which she sees as a good combination. Another aspect of the department that she likes is that, as she puts it, "civil is very diverse"; she adds that it is "empowering and encouraging" to be among so many other women in the department. Finally, she appreciates the work the Engineering Career Services office does in providing resources and in bringing civil engineering employers to events like Suit Up and be Civil and the Chi Epsilon Career Fair.  She herself got an internship with Whiting-Turner for summer 2018 as a result of the Chi Epsilon Career Fair. She gave her resume to a representative there, and an interview and internship offer quickly followed. She will be interning at Whiting-Turner's Towson office this summer.
This semester, Nicolette is enjoying Dr. Andrade's Engineering for Sustainability course, and she is looking forward to the department's study abroad course in Greece over spring break. While she is very busy, her time management and organization skills help her balance her academic with her extracurricular activities.  When she does have free time, Nicolette enjoys going to basketball games, spending time with her sorority sisters, and watching Netflix.
Nicolette is still deciding on what she wishes to do after college. Graduate school is a possibility, though she thinks she will first want to work, either in project management or design. Whatever she chooses, the drive, enthusiasm, and work ethic she has already demonstrated and honed at UMD are sure to take her far.
Top