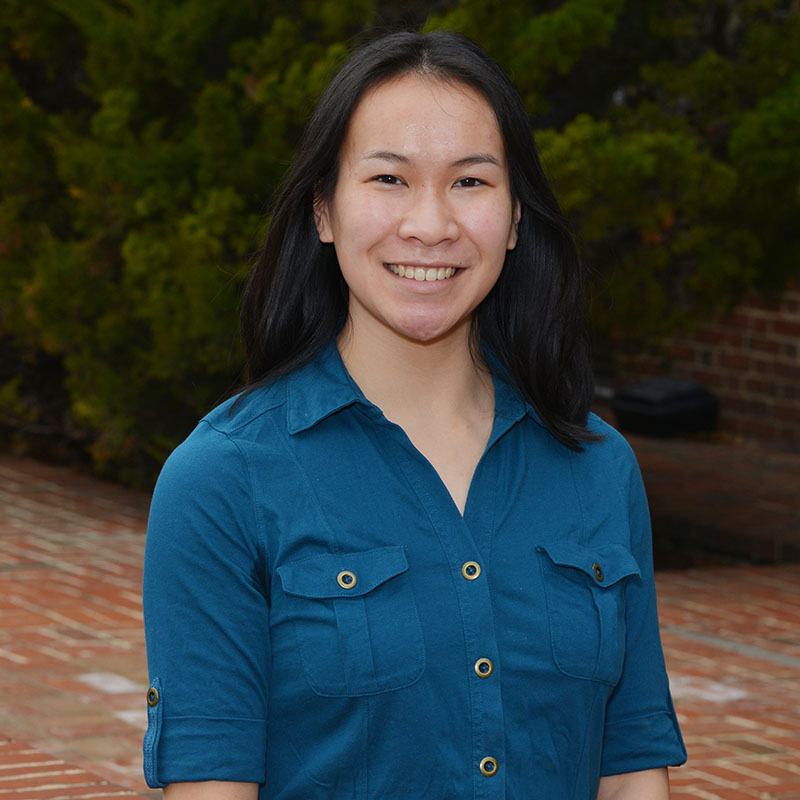 I really enjoy being out in the field with clients.
Fall 2018
Meigan McManus is in her fourth and final semester in the CEE department's M.S. program in environmental engineering.  She received an undergraduate degree in environmental science from the University of Virginia, but in her last semester took a course in stormwater engineering and realized that she wanted to switch fields.  She already knew that she wanted to work with stormwater and low-impact development, and she realized environmental engineering would be the best path for her to pursue in order to do that kind of work.  She was attracted to UMD and our CEE department by Professor Allen Davis's work with bioretention cells and other stormwater best practices. Davis is now her master's thesis advisor. 
Meigan's research involves bioretention cells, or rain gardens.  She is looking at what happens when road salt washes into these biorentention cells in winter.  Do the cells still work just as well filtering out nitrogen and phosphorous?  Or does the road salt hinder this process?  Her research suggests that road salt may cause short-term harm to the cells' ability to filter out pollutants, but that in the long run the cells are resilient enough that there is no lasting damage.  Her research is partly funded by the Maryland State Highway Administration. Davis also presented research that Meigan had worked on at the International Urban Drainage Conference in Prague this past fall. 
Meigan feels that being able to talk to other people in the CEE department—both her fellow students and faculty--- about their experiences has been incredibly beneficial, particularly in filling gaps in her experience due to her not having an engineering Bachelor's degree.  At the same time, her environmental science background has given her a step up in some aspects of her work, due to her in-depth knowledge of biology and ecology, and her ability to view all her coursework through the lens of sustainability.  Her favorite class in the department has been Davis's Process Dynamics class, which she describes as "very challenging and very rewarding."
Meigan also feels that the department is very diverse in comparison with other engineering departments, and observes that the gender balance in her classes is "relatively even."  She attributes this diversity partly to the ethos of Environmental Engineering, which she says promotes an attitude of "giving back" to the environment and the community that appeals to many women and other minorities.
Meigan is also the President of CEE's Graduate Student Council, and in this role she organizes academic and career-oriented events for her peers.  A recent event, put on with the help of Chris Villas in IT, focused on free reference management software.  An event toward the end of the semester will address salary negotiations, a pressing concern for many graduate students who will be finishing their studies this semester.
Meigan has also played the violin for seventeen years, and plays in the UMD Gamer's Symphony Orchestra, which plays exclusively video game music.  They will be playing at the Kennedy Center in March.  She says that being part of the orchestra is a great outlet for her, as it provides a change of pace from her role as a graduate student.  Between her various commitments, she does not have a lot of free time, but she practices stress management by making time every day to do the things she enjoys, like going for a run or cooking.  As her role in the Gamer's Orchestra suggests, she also enjoys video games, especially the Legend of Zelda  series. 
After graduation, Meigan hopes to pursue consulting work for companies or government agencies that are working to reduce pollutants in stormwater, whether by creating a rain garden or restoring a stream.  "I really enjoy being out in the field with clients," she says.  Equipped with the tools she has gained at UMD, she is sure to be able to do just that.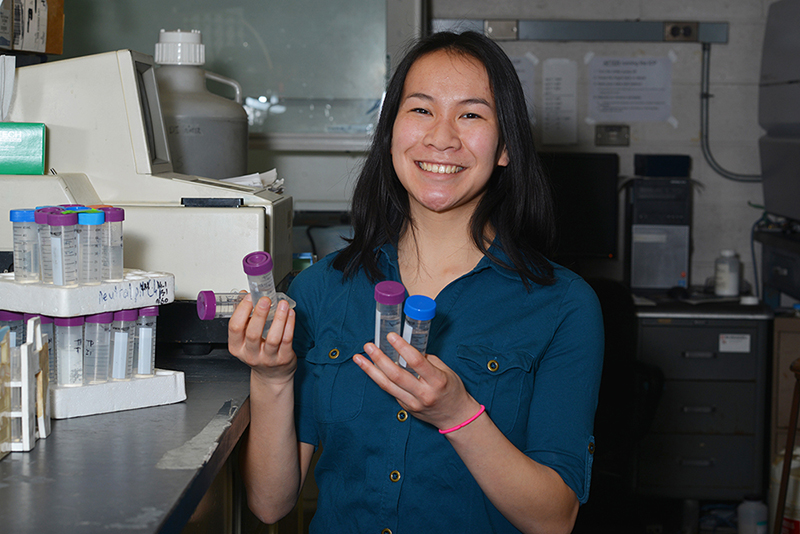 Top