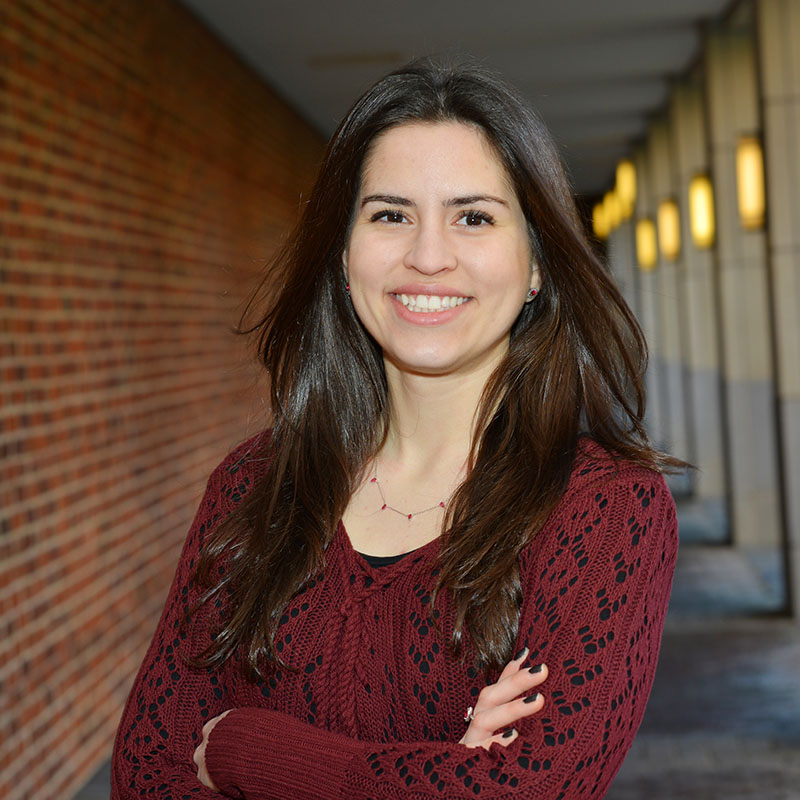 I'd always heard that I'd be the only girl in my classes, and was surprised to find that wasn't true.
Fall 2018
Maria Coelho is in her second semester in the CEE department's Ph.D. program, specializing in civil systems.  She has also received her B.S. and M.S. from this department.   Originally from Brazil, Maria came to the U.S. for high school and one of her favorite courses as a senior was an engineering course.  She also liked math, so she thought, "Maybe engineering is for me."  Of civil engineering in particular, she says it made sense to her to choose this as her college major because she likes to "pay attention to what it takes for things to work," especially when walking or driving around a city.  In 2011, after high school, she decided to come to UMD to pursue her undergraduate degree, and says that "the Clark School's reputation was what attracted me." 
As an undergraduate, Maria pursued the structural track.  She was selected to participate in UMD's Research, Instruction, Service, and Entrepreneurship (RISE) program, which she feels helped her greatly with her leadership skills.  For the research component of the program, she did research with Assistant Professor Brian Phillips; as instruction experience, she was a Keystone Undergraduate Teaching Fellow for ENES102.  She was also a Successful Engineering Education and Development Support (SEEDS) mentor and a member of Engineers Without Borders (EWB).  She says being in EWB was one of her favorite experiences.  Her EWB team traveled to Peru to work on a water sanitation project, building a water chlorination system. 
One thing Maria noticed early on about the CEE department was its diversity.  "I'd always heard that I'd be the only girl in my classes, and was surprised to find that wasn't true. There are lots of us, and lots of resources for us," she says, adding that Women in Engineering does a good job supporting female students and creating a community.  She says she also found it "inspiring" as a new college student to see so many women faculty members in the department and that she looked up to them as role models.
After obtaining her undergraduate degree, Maria didn't feel ready to go into industry, as she wanted to learn more about her chosen field.  Because she'd had such a positive experience as an undergraduate here, and because of the fruitful relationships she had already built with the faculty, Maria decided to stay at UMD and in the CEE department for graduate school.  On beginning her Master's in 2015, she switched her concentration from Structural to Civil Systems.  Associate Professor Mark Austin was her advisor for her Master's program and is now her Ph.D advisor.
Maria's Master's and Ph.D. research has focused on the modeling system behavior and the interactions between systems.  The systems that make up our urban life, she points out, are all interwoven.  But those involved in the systems do not always recognize this interconnection, so there is not always sufficient sharing of information between systems, or between engineers in different systems.  Maria says that this lack of communication is a major reason failures occur.  She has designed software to model this aspect of system behavior; for her MS research she used a school system as an example, with the high schools, middle schools, and families all acting as separate but interconnected systems. 
For her Ph.D. research, Maria is working on applying the software she created to a larger context, and factoring in time and space to a greater degree.  She is currently working with Dr. Austin to look at drone systems.  When there is a communication failure between systems, for example between a drone and a drone operator, she is interested in how one can prevent such a failure from leading to a cascading series of failures. Last April, she and Dr. Austin got to present their work at ICONS, the International Conference on Systems, where they won the Best Paper Award.  They are now working on journal publication for that paper.
In her spare time, Maria enjoys being with family and friends, being outdoors, and traveling as often as she can.   She has traveled to several states across the East Coast and has visited Canada.  Last summer, she did a road trip through several Southern states.  Over the upcoming Spring break, she plans to go home to Brazil.  She tries to get back there every two years or so, as she still has a lot of family there.
Maria is currently the TA for Dr. Goulias's "Fundamentals of Engineering Materials" course.  Next year, she hopes to participate in the University's Future Faculty Program, which she believes will "open doors" for her.  After graduation, she wishes to explore an academic career, but also to maintain some partnerships and projects in industry, as she believes teachers should have some experience working in the field they teach.  Whatever she does, she wants to make a lasting difference.  The best part of being a civil engineer, according to Maria, is "having the ability to contribute to future generations as well as to communities now."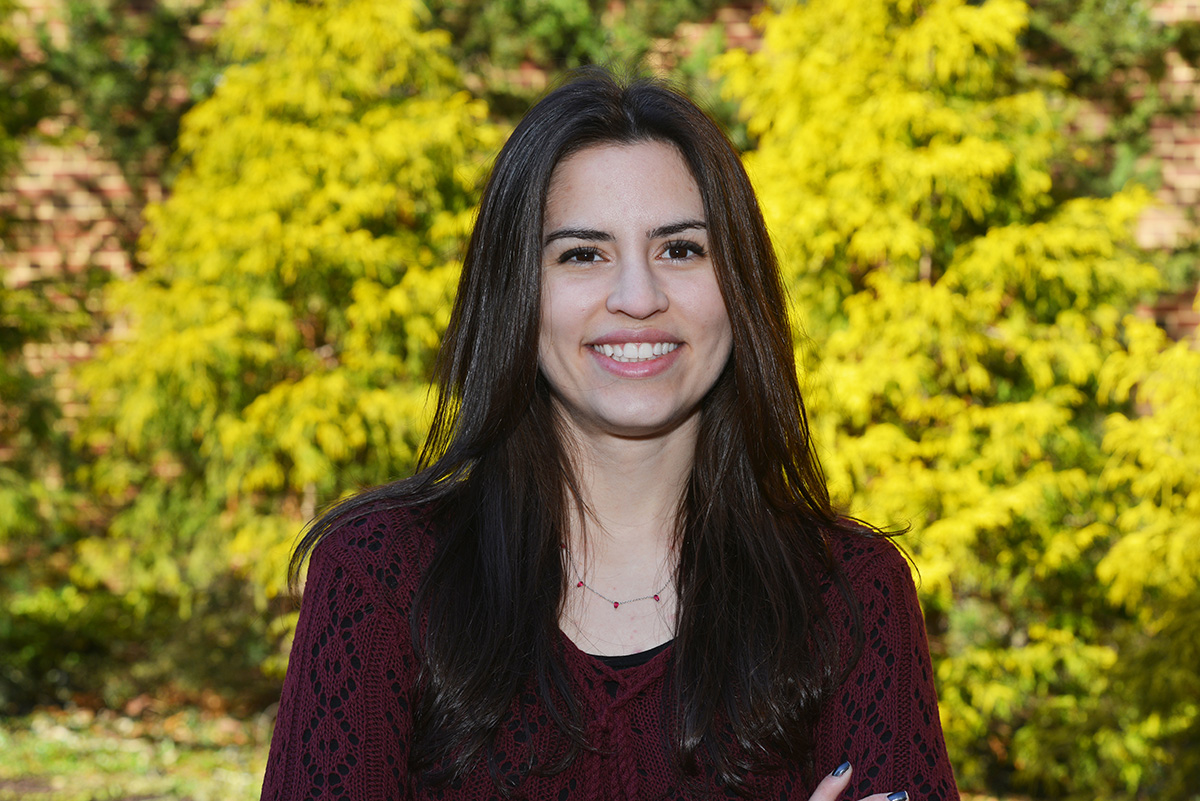 Top