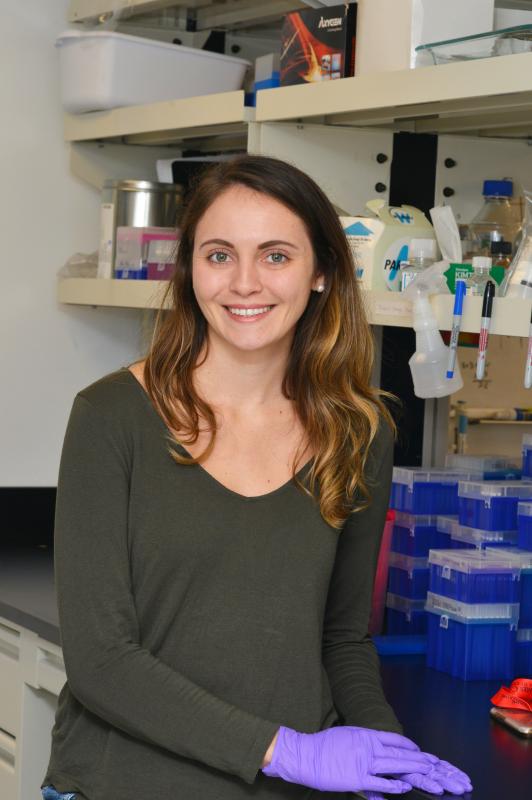 UMD is a great school and has a lot of resources.
Fall 2018
Kristen Croft started this semester in the CEE Department's Environmental Engineering PhD program. She was awarded the department's Clark Doctoral Fellowship.  Kristen, who grew up in Fort Lauderdale, Florida, received her B.S. in Environmental Engineering from the University of Florida.  In seeking a graduate program, she was looking for one that would allow her to pursue her interest in persistent organic pollutants and their fate in the environment.  When she discovered Dr. Kjellerup's work, she knew she wanted to work with her. Besides this, she says, "UMD is a great school and has a lot of resources."
Kristen had started out at the University of Florida as an Industrial Engineering major and then a Civil Engineering major before settling on Environmental Engineering.  An environmental geology course led her to make that switch by raising her awareness of the array of environmental issues that need solutions.  
Kristen is currently taking courses in microbiology and process dynamics while beginning research in Dr. Kjellerup's group.  She is one of three people in working on a project overseen by Dr. Kjellerup and Dr. Davis.  Their project is examining how to use bioretention and bio-remediation to remove copper, PCBs, and PAHs from stormwater.  Kristen says she is looking forward to delving further into her research and getting to disseminate the results.
In her free time, Kristen enjoys playing with her cat, gardening, and hiking.  One of her favorite spots to hike in Maryland is the Billy Goat Trail at Great Falls.  Once she finishes the doctoral program, she hopes that she will stay in academia and become a professor.
Top