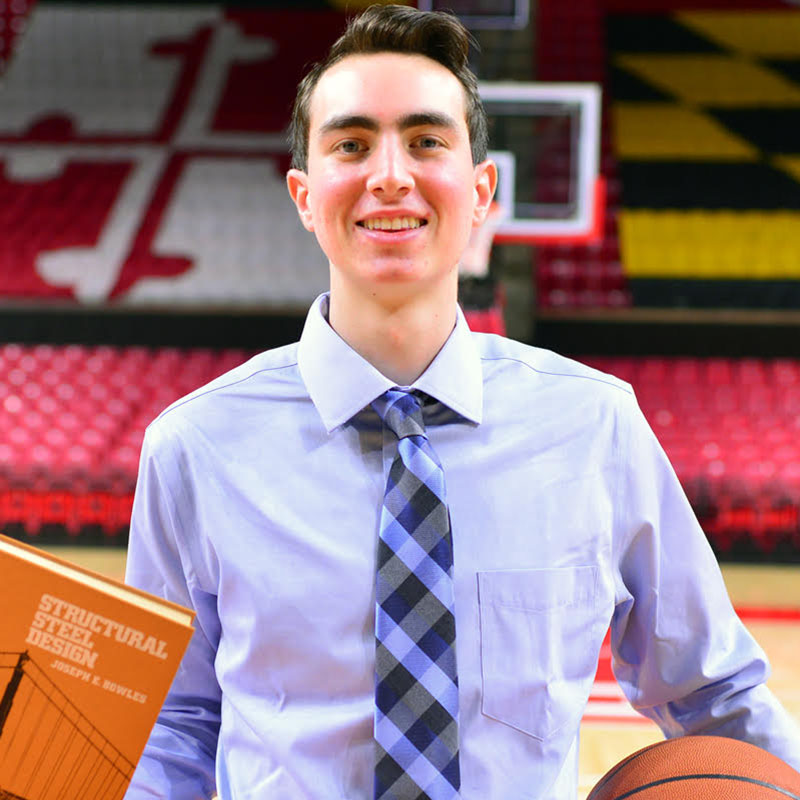 [I'm] interested in stuff that hasn't been done.
Spring 2017
Alex D'Alessio is a Junior pursuing the Geotechnical and Structural Engineering track in CEE. He has also been the manager of UMD's Men's Basketball team since he arrived as a freshman, following four years as a varsity basketball player in high school. "I always had a strong sports background, and I always loved math," he says. Looking at the CEE Department's website as a high school student, he says he "fell in love" with Civil and Environmental Engineering; he is especially "interested in stuff that hasn't been done" before, like new and "exotic" types of buildings. His college career has involved a careful balancing of his passions for engineering and for basketball.
He says one of the things he enjoys most about being a CEE major is seeing the way courses build on each other, so that you get to "see the bigger picture" as you go on. One of the courses he has particularly enjoyed has been ENCE320, Introduction to Project Management, with Professor O'Connell, which he says moved beyond numbers to issues of professionalism, leadership, and "how to deal with difficult situations" in the workplace environment. It taught him a lot about "how to be an engineer in the field," he says, adding that while knowing the numbers is important for an engineer, being able to communicate is an equally important skill, one that can be applied in any environment.
He also appreciates that the department has a diverse environment that "stems from the professors," though he'd like to see even more women professors. He says it's great to feel different cultures come together in the classroom, because "Civil Engineering is about society and about the world" and "helping people," so a diversity of perspectives is especially important in this major.
Along with academics, a lot of Alex's time in college has been devoted to his role as Manager of the Men's Basketball team. Just this year, for instance, the team has eleven or twelve road trips, which will require him to miss some classes. This commitment has required him to be disciplined and to cultivate time management skills from the start of his undergraduate career; "the biggest thing I learned is how to balance my time," he says, adding that he's "thankful" to have acquired such a useful skill. But he says he "never struggled" with balancing school and basketball, since he's never known any other kind of college life. "That's just how college is for me," he laughs, adding, "That's just how my brain is wired now." He does still try to make time for friends, however; he especially likes to go out in D.C. and go to Wizards games.
One of Alex's favorite college moments occurred when he was a freshman, just starting out as the Manager for the Men's Basketball team. The team beat the University of Wisconsin, the number five team in the country, something many had doubted they would be able to do. At the end of the game, UMD students enthusiastically stormed the court. At that moment, Alex new that "our Men's Basketball was re-established, and it was rewarding to be a part of that."
As he nears graduation, Alex is considering continuing on in the Department's BS/MS program in the Project Management area. He is still considering options for his career trajectory; one of the paths he is considering is going into academia. He says the idea of becoming a professor is exciting for him because he likes to help people, particularly to "guiding them to arriving at and understanding the answer" when they have a question. He believes such a career would put his skill for connecting with people, communicating with them, and approaching different styles of learning to good use. Even if he does follow that path, however, he says, "I'll need something to feed my basketball appetite."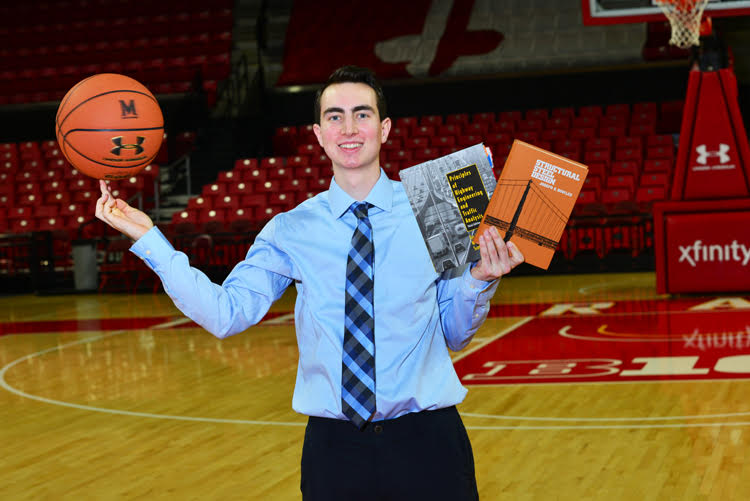 Top